By DENISE M. BARAN–UNLAND dunland@shawmedia.com
The Herald-News
---
Link to original story: https://willcountycac.org/owner-of-joliet-insurance-agency-is-first-time-participant-in-men-who-cook-joe-garbin-cooks-for-the-love-of-cooking/?fl_builder
---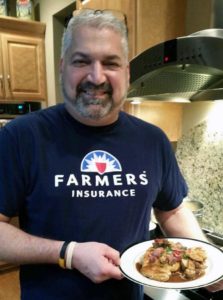 JOLIET – Joe Garbin cooks because he likes to give back. Seriously.
Garbin, owner of Garbin Insurance Agency in Joliet, cooks for friends and he cooks for friends' events for the cost of the ingredients. A fun night for Garbin is whipping up saganaki, Greek pork and Greek chicken or shrimp scampi and seared scallops, while his companions "sit at the counter and watch me."
He's always wanted to participate in "Men Who Cook," the annual tasting benefit for the Will County Children's Advocacy Center in Joliet, but Garbin's schedule never allowed it.
Until this year.
Garbin will prepare Mediterranean pork tenderloin with home pita wedge and tzatziki sauce for the ninth annual event on March 25 in Mokena.
But Garbin's main culinary focus is "old-school Italian cooking," which he learned from his now-deceased grandmother Carmela Garbin, who came from Sicily.
"I probably started cooking in the kitchen with her when I was 8 or 9," Garbin said, "by the time I was 12, 13, I took it all over from her for the holidays."
At 11, Garbin was cooking at the former Shorewood Inn; by 13, he was working at the former Sirloiner Pub in Joliet and then back to Shorewood Inn two years later, Garbin said.
Garbin said he earned an associate degree in culinary arts from Joliet Junior College and a bachelor's degree in hotel and restaurant management from Lewis University in Romeoville. Garbin then helped open up several area restaurants, including the former TNT Restaurant in Joliet.
By age 23, Garbin was done cooking professionally, by choice.
He had married Debbie Garbin and wanted work hours conducive to family life. His father Angelo Garbin, now deceased, encouraged him to join him in the insurance field. So Garbin did. Garbin's mother, Rita Garbin, still works for the company, Garbin said.
But Garbin always remembers to give back as per the advice of his grandfather Beno Garbin (deceased), who never turned down the chance to help someone, Garbin said.
And Garbin never stopped cooking. And he probably never will.
"This is a passion and very therapeutic for me," Garbin said.
-----------------------------------
THIS AND THAT
Challenge: Baking, due to its precision, but that's recently changed. "I do a lot of bread. Flat bread, pizza dough, you name it."
Specialties: Soups, sauces and knife skills. Garbin's knife skills are so keen that once, when joking around he, "cut mushrooms blindfolded."
Cookbooks: "Don't use them. I like to create my own recipes. I especially like to go to restaurants, pick it [recipe] apart and then try to replicate it at home."
----------------------------------------
Joe Garbin's Chicken Marsala With Crispy Prosciutto
"I call this a one-pan recipe."
Start to finish: 90 minutes
Servings: 3 to 4, depending on the size of the breasts
3 chicken breasts, split in half, and lightly pounded (This not only tenderizes them, but makes them cook more evenly).
2 pints mushrooms (I used portobello, crimini and button, sliced)
1 cup dry Marsala wine.
1 cup chicken broth
1 tablespoon fresh garlic
Salt and pepper to taste
Seasoned flour mix: 2 cups of flour, 2 tablespoons salt, 1 tablespoon pepper
1/4 cup olive oil
1/4 cup butter
6 pieces of prosciutto (optional)
Lightly pound the chicken between two pieces of plastic wrap or in a zip lock bag. Dredge them in seasoned flour mix.
Slice the pieces of prosciutto in strips and fry them until they are crisp in a skillet, then set aside for later.
In this same heavy skillet, heat olive oil and butter together, until butter starts to sizzle.
Place chicken breast in the pan and brown on each side, approximately two minutes per side, until they are about three-fourths cooked.
Remove chicken from pan, set aside.
While oil and butter is still hot, add garlic to the pan, and saute the garlic until tender, but not browned. Add mushrooms and saute. Keep pat hot to caramelize the mushrooms.
Once mushrooms are tender, dust them (in the skillet) with 1/4 cup of flour.. Then cook the mushrooms, garlic, and flour for about five minutes, stirring constantly. This removes the taste of the flour.
At this point, add chicken broth, and Marsala wine, stirring to prevent clumps. Check seasoning and add salt and pepper to taste.
Once this mixture has reduced to desired consistency, add chicken and its juices. Simmer for five minutes.
Note: If sauce is too thick, add a little chicken broth. If it is too thin, reduce a little more before adding chicken back to the pan.
Serve with pasta of choice or roasted potatoes. Top chicken with optional crispy prosciutto.
---------------------------------
IF YOU GO
WHAT: Ninth Annual "Men Who Cook" culinary competition
WHEN: 6 to 9 p.m. March 25
WHERE: Pipefitters Training Center off I-80, 10850 187th St., Mokena.
ETC: 50 local amateur chefs. Casual dress. Emceed by WJOL's Lynne, Mary and Natalie. Benefits Will County Children's Advocacy Center.
TICKETS: $40 per person; $75 per couple. $10 for ages 6 to 12. Ages 5 and under are free. Purchase at the door or by visiting menwhocook.info.
INFORMATION: Call the Will County Children's Advocacy Center at 815-774-4565
-------------------------------------
KNOW MORE
To better understand the variety of food available at this year's Men Who Cook, check out the dishes prepared by last year's (2016) winners.
Appetizers
• First place – Ed Kerfin and Ross Novak, "Friends over 50" show on WJOL-AM: Wahoo Ceviche
• Second place– Tom Grotovsky, The Unforgettable Chef : Beef Tenderloin Bits Au Poivre
• Third place – Pat Schumacher and Marc Reid, Joliet Fraternal Order of Police Lodge 58: Sausage & Cheese Stuffed Jalapenos
Side dishes
• First place – .Duffy Blackburn, Will County auditor: Bacon-Wrapped Dates
• Second place – Mike Pasteris: Potato Soup
• Third place – Glen, Jim and Patrick Marcum: 5 Cheese Baked Mac n' Cheese
Entrees
• First place – Kevin Johnson, John Burica, Rob Krause, Chad Riff, Frankfort Police Department: Smoked Brisket
• Second place – Craig Gunty, Channahon Police Department: Sloppy Joe Sliders
• Third place – Mike Gahan, Kavanagh Grumley & Gorbold, LLC: Chicken & Sausage Jambalaya
Desserts
• First place – Larry Walsh Will County executive: Caramels
• Second place – Chris Dieter: Maple Carmel Bacon Bites
• Third place – James Sankey, Cheesecakes by James: Assorted cheesecakes
Best table display
• First place – Kevin Bergunder and Kevin Farley: Double Kevin Gangster Pulled Pork
• Second place – Raymond Bouttee' Jr., CITGO, Lemont Refinery: Shrimp & Crawfish Rice
• Third place – Kevin Johnson, John Burica, Rob Krause, Chad Riff, Frankfort Police Department: Smoked Brisket
Copyright © 2017 The Herald-News. All rights reserved.