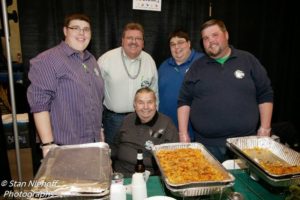 JOLIET – Will County State's Attorney James Glasgow announces that he has established a new award named after long-time Joliet-area community leader Glen Marcum, who passed away in 2016.
The Glen Marcum Selfless Dedication to Community Service Award will be given annually to a dedicated and selfless supporter of the Will County Children's Advocacy Center who embodies Glen's commitment to the service of others. Glen and his father, Jim Marcum, and his sons Tyler, Brett and Patrick were longtime chefs at the annual Men Who Cook fundraiser to benefit the not-for-profit Will County Children's Advocacy Center. Despite their sad loss, the Marcum team will carry on the tradition and cook once again this year.
The inaugural honor will be given at this year's Men Who Cook on March 25 at the Pipefitters Training Center off Interstate 80 and LaGrange Road in Mokena. The name of the first recipient will be revealed at the opening of this year's Men Who Cook.
Glen devoted countless hours of time each year to the Joliet community in roles that touched many lives. He was particularly dedicated to serving the community's children, ensuring that they had first-rate educational and recreational opportunities. Among his many accomplishments, Glen was:
President of the Joliet Park District Board of Commissioners (two terms on board, three years as president);
Regional Board Member for the American Cancer Society, as well as a 15-year participant and 5 year chairperson of the Joliet Relay for Life;
Volunteer basketball coach at St. Paul the Apostle School;
Joliet Grade School's Board of School Inspectors for three terms;
President of the Greater Joliet Youth Foundation;
President of the Instrumental Music Parents Association;
President of the Joliet Township High School Athletic Boosters;
Co-Chair of the Joliet Township High School Strategic Plan Committee;
Head judge of the Will County Spelling Contest;
Take Back the Night committee member;
Volunteer at Daybreak Shelter;
President of and instrumental in establishing the Joliet Grade Schools Foundation for Educational Excellence;
City Center Partnership Christmas Parade Committee;
Right Moves for Youth Board Members;
Old Timers Baseball Association;
And a Men Who Cook volunteer chef for eight years.
Glen was born in Joliet and attended Cunningham Grade School and Hufford Jr. High School. He was a proud graduate of Joliet Central High School class of 1978. He worked as an auto mechanic for 39 years at Bertino's Auto in Joliet. Aside from his family, nothing gave Glen more pleasure than serving the Joliet community.
State's Attorney Glasgow established the Will County Children's Advocacy Center in 1995 to improve the investigation of child sexual abuse cases. The center's professionally trained and compassionate staff performs child-sensitive interviews when there are allegations of sexual or severe physical abuse.
Children's recorded statements have been used in the successful prosecution of thousands of predators. The caring team also has provided counseling, advocacy services, and medical referrals for nearly 10,000 sexually and severely abused children and their family members.
Tickets for "Men Who Cook" are available online at menwhocook.info or they can be purchased at the door. For additional information, call the Will County Children's Advocacy Center at (815) 774-4565. Or visit on the Web at menwhocook.info or on Facebook at facebook.com/willcountycac.