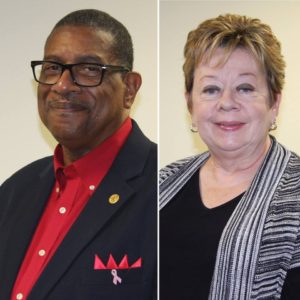 JOLIET – Will County State's Attorney James Glasgow announces that County Board Member Herb Brooks Jr. and Dr. Rita Gray from the Will County Health Department have been appointed to the Will County Children's Advocacy Center's Board of Directors.
In addition, the Board of Directors bid a fond farewell to founding board member Mike Mikuska, who worked closely with Glasgow over the past 21 years to develop the services the center provides to sexually abused children and their families. Glasgow chairs the board of directors.
Brooks, who also serves as the longtime pastor of St. John Missionary Baptist Church, and Gray, who is a clinical psychologist and the director of clinical training for the Health Department, were nominated by State's Attorney Glasgow and approved by the Board of Directors at its most recent meeting.
He has served on the boards of both Big Brothers Big Sisters of Will & Grundy Counties as well as CASA (Court Appointed Special Advocates) of Will County. In addition, he served as the president for Joliet Public Grade School District 86 and as a member of the Family Violence Coordinating Council.
Gray brings experience regarding the work performed by the Children's Advocacy Center. The Will County Health Department has used the center as a referral source for abused and victimized young people. In addition, Gray has counseled families and children during times of crisis.
She serves on University of St. Francis Psychiatric Mental Health Nurse Practitioner Advisory Board and the Illinois Psychological Association Committee.
Gray is also affiliated with the Will County Community Health Center Medical Clinic; the Will County Departments of Detention, Probation and Juvenile Court; Guardian Angel Community Services; Cornerstone Services; Stepping Stones; and Youth Experiencing Success in Schools (YESS).
Glasgow and fellow board members presented Mikuska, president of Mickey's Tire and Service Centers in Joliet, with a plaque honoring his 21 years of service and his work as a founding board member.
Copyright © 2017 The Herald-News. All rights reserved.