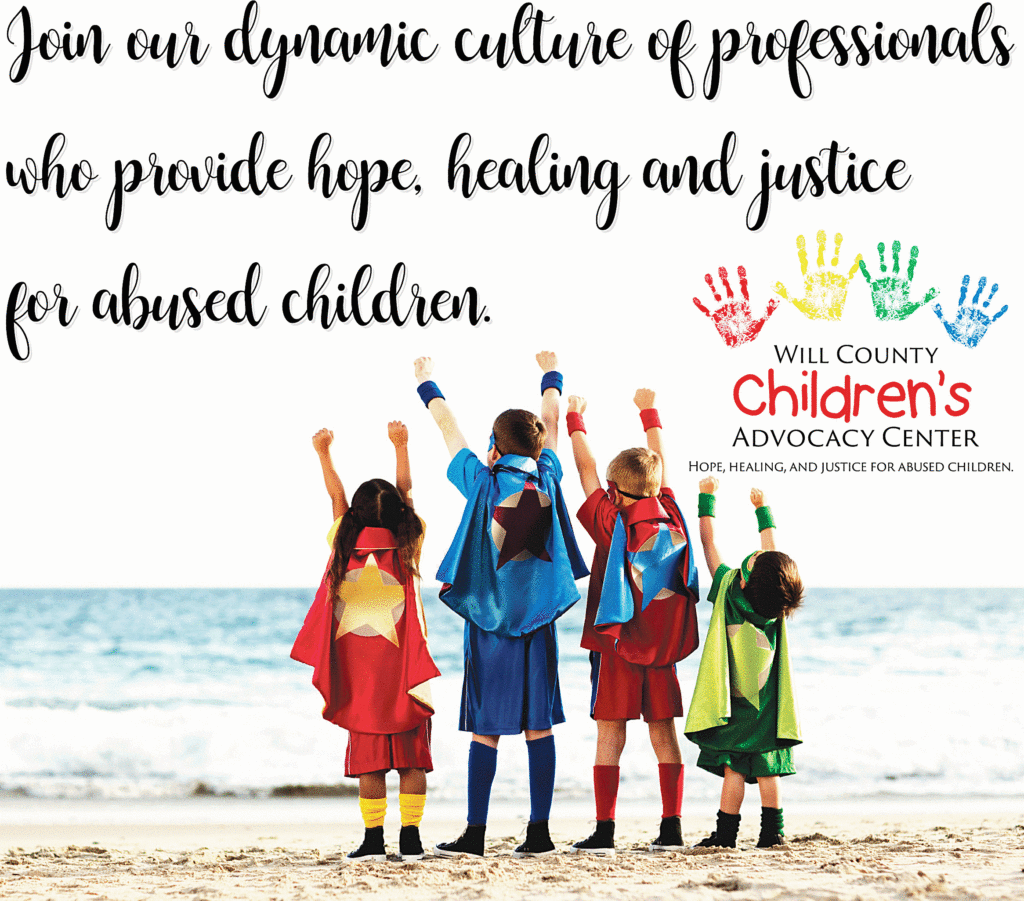 Thank you for your interest in becoming a part of the Will County Children's Advocacy Center's team.
Culturally diverse and bilingual (English-Spanish) individuals are strongly encouraged to apply. Current full-time, exempt job openings:
TO APPLY: Please email a resume and cover letter to lmlas@willcountyillinois.com and include the position title in the subject line. NO PHONE CALLS, NO IN-PERSON VISITS. All positions open until filled.
Trauma Therapist
JOB SUMMARY:  Provide evidence-based, trauma-specific, individual, family and group therapy and case management to clients within agency policies and procedures and practices.
ESSENTIAL FUNCTIONS:
Essential understanding of National Children's Alliance standards and implementation of best practices.
Provide evidence-based, trauma-specific individual and family therapy to an average caseload of 18 – 20 clients.
Provide evidence-based, trauma-specific group therapy as needed and agreed to by therapist and Behavioral Health Coordinator.
Complete a comprehensive written assessment of assigned cases within the guidelines established by the Behavioral Health Coordinator.
Perform a variety of casework duties, including obtaining, analyzing and evaluating data necessary to implement client service.
Develop and implement written treatment plans for each assigned case.
Actively participate in reflective, clinical and administrative supervision with the Behavioral Health Coordinator at a frequency to be determined by the therapist and supervisor together.
Provide linkage to other appropriate resources within specific referral procedures, as needed.
Maintain accurate, complete and timely client records as established by the Behavioral Health Specialist.
Conduct crisis assessments and respond to client crisis needs.
Participate in local training opportunities.
Communicate effectively and function in a collaborative manner within all levels of the organization, with participating agencies and within the community.
Maintain strict confidentiality and cross-cultural awareness in the performance of all duties.
Attend local, out-of-town, or overnight specialized training or peer review meetings as needed.
Other duties as assigned by the Executive Director or added to the scope of responsibility for the position.
Represent the CAC in employee, volunteer and intern recruitment and retention activities.
EDUCATION/EXPERIENCE: Master's degree in psychology, counseling, social work, or related field. LPC or LSW required. LCPC or LCSW preferred. Two years of professional experience providing trauma-focused evidence-based therapy to children and adolescents, preferred. Flexibility in schedule based on the needs of clients is required. Evenings and weekends required.
KNOWLEDGE, SKILL & ABILITIES:
Knowledge of child development, diagnoses, impact of sexual abuse and physical abuse on children, PTSD, and trauma.
Knowledge of trauma focused cognitive-behavioral therapy (TF-CBT) required.
Strong problem-solving, organizational, written, oral, and communication skills needed.
Demonstrated awareness of multiple cultures and cultural impact on the delivery of service a must.
Bicultural and bilingual (English-Spanish) strongly preferred.
OTHER REQUIREMENTS:
Must perform duties independently, proactively, and with a variety of people.
Position involves sensitive and confidential information about child abuse victims and partner agency personnel at all levels. Strict confidentiality must be maintained.
Successful clearance of child abuse and police background checks.
Must provide written documentation of licensure.
Must maintain a policy of liability insurance for services provided.
Participate in ongoing continuing education, as assigned.