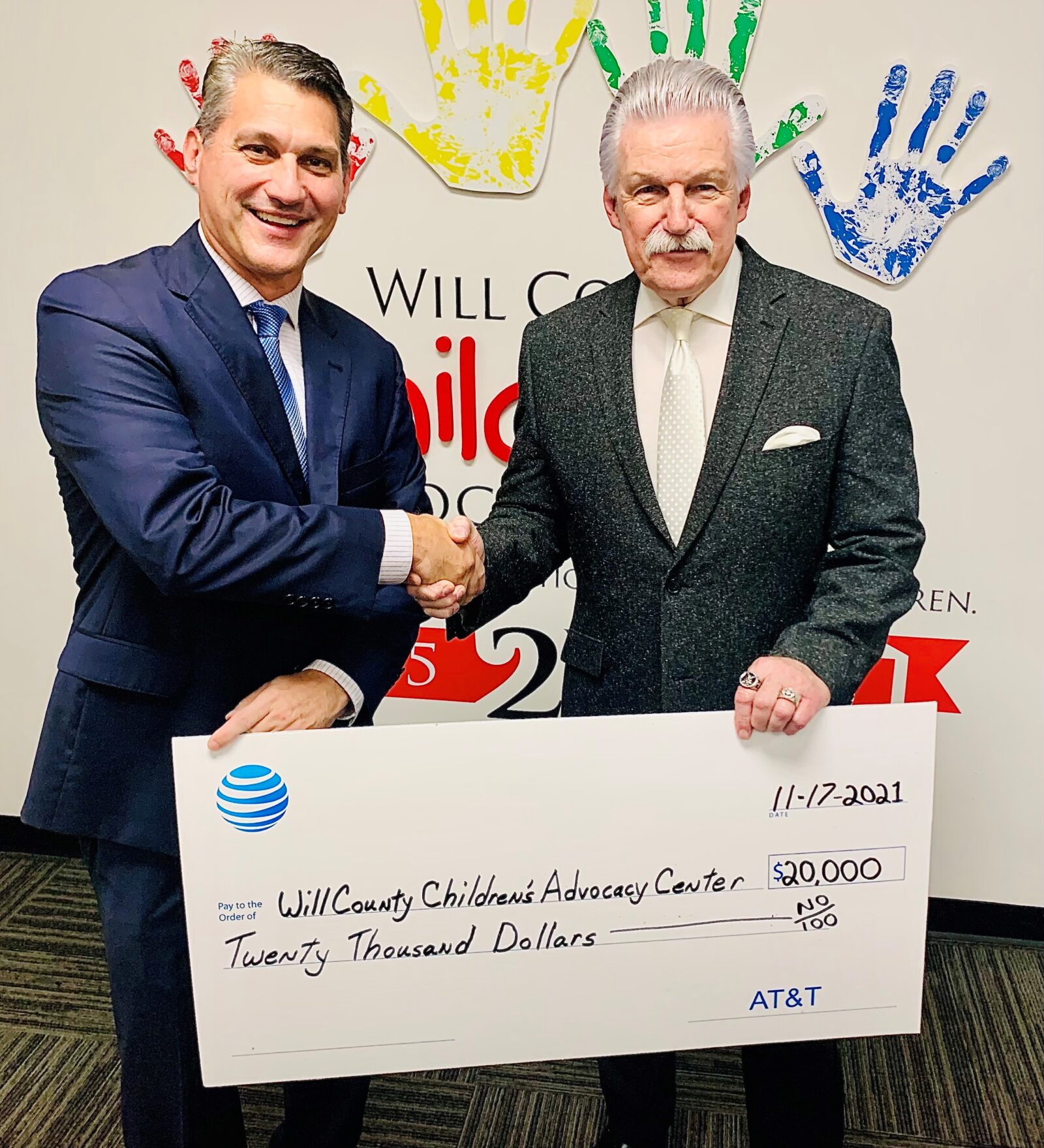 JOLIET – Will County State's Attorney James Glasgow announces that AT&T Illinois has donated $20,000 to the Will County Children's Advocacy Center through the CAC's Corporate Partnership Program. AT&T has been a member of the program since its inception in 2017, and this year's contribution was at the highest, "Hero" level.
"AT&T is truly a hero not only to the CAC, but to the sexually abused children who receive our services each and every day," Glasgow said. "The ongoing commitment of AT&T and our other corporate partners plays a critical role in supporting the CAC's mission of providing 'hope, healing, and justice' to sexually abused children and their non-offending family members."
State's Attorney Glasgow established the Children's Advocacy Center in 1995 to implement the specialized investigative procedures that are required in handling child sexual abuse cases to safeguard children from any additional trauma. When a child makes an outcry of sexual abuse, the child is brought to the CAC where highly trained and compassionate forensic interviewers obtain accurate and complete statements in a neutral, non-suggestive, and child-friendly environment. The CAC also provides state-of-the-art trauma- and family-based counseling, medical exams, legal advocacy, community resource referrals and other social services to facilitate the healing process.
In addition to supporting ongoing programming, AT&T's contribution will help support expanded program service needs due to COVID-19.
AT&T Illinois' Director of External Affairs, Jeff Adducci, presented the contribution on behalf of the company.
"AT&T is proud to collaborate with the Children's Advocacy Center and support its mission of protecting and serving abused children," Adducci said. "As a member of our community, AT&T is committed to supporting programs that make a positive difference in the lives of our children – and the CAC makes a tangible, positive difference in the lives of children throughout the Will County community every day."
To learn more about the CAC and its Corporate Partnership Program, please visit the CAC's website at https://willcountycac.org/get-involved/corporate-partnership-program, or contact Executive Director Lisa Morel Las by phone at (815) 774-4565 or email at lmlas@willcountyillinois.com.
###