State's Attorney Glasgow to present Glen Marcum Award to Pipefitters Local 597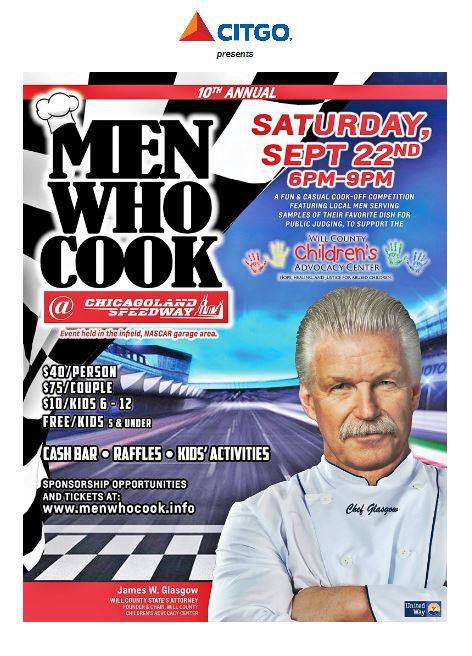 JOLIET – The organizers for MEN WHO COOK, hit the road this year looking for a larger space to accommodate the expanding number of chefs and diners who race to what has become Will County's most popular community event.
The fundraiser, which benefits the Will County Children's Advocacy Center, is shifting gears and moving to the sprawling infield at Chicagoland Speedway from 6-9 p.m., Sept. 22. The move will give hungry guests more room to maneuver through the culinary course of appetizers, side dishes, entrees, and desserts prepared and served by more than 50 local amateur cooks.
"I thought it would be impossible for MEN WHO COOK to outgrow the expansive and friendly accommodations we called home at the Pipe Fitters' Training Center - Local Union 597 for the past seven years," said State's Attorney James Glasgow, who chairs the center's board of directors. "It's a testament to the popularity of the event that this is the third facility we've outgrown. Last year the dining area was on the verge of being overcrowded by guests and we outstripped our allotted parking."
The State's Attorney continued: "The popularity of this event presented us with a bittersweet dilemma because the Pipefitters provided such a great venue as well as their team of dedicated apprentices who helped this fundraiser run smoothly. It was truly hard to even begin thinking of holding MEN WHO COOK anywhere else."
The State's Attorney will present the Glen Marcum Award to Pipefitters Local 597 for supporting MEN WHO COOK. The honor, which is named after the late Glen Marcum, a former Joliet Park Board president and a devoted community volunteer, is presented each year to individuals or groups demonstrating selfless support for the Will County Children's Advocacy Center.
Moving to Chicagoland Speedway will resolve the space crunch and provide new opportunities in a unique setting. There will be endless parking, as well as additional space on the infield to accommodate more cooks and guests.
This year, organizers also are coordinating a Professional/Commercial Chef division for those who work at restaurants or other eating establishments.
Guests will have NASCAR photo opportunities, and the popular Kids' Corner will be held in Victory Lane. Diners can sample all the great food in an outdoor setting with a view of the illuminated grandstand, providing an early fall, alfresco dining atmosphere in which to relax and socialize.
MEN WHO COOK is a favorite of all ages and provides critical financial support for the Will County Children's Advocacy Center, which provides hope, healing, and justice for sexually abused children. With more than 1,100 attendees last year, Men Who Cook is widely recognized as the largest and most popular, single-day fundraising event in Will County.
This fun and casual cook-off competition features more than 50 local guys – leaders in business, construction, accounting/finance, law enforcement, healthcare, manufacturing, real estate, government, education, and media – serving samples of their favorite dishes for public judging.
State's Attorney Glasgow and the Children's Advocacy Center also are proud that CITGO Lemont Refinery is the Presenting Sponsor for the 2018 MEN WHO COOK. CITGO recently made a $10,000 contribution to the fundraiser. Sponsorship opportunities are available at the www.menwhocook.info.
State's Attorney Glasgow established the Will County Children's Advocacy Center in 1995 to guarantee successful investigations of child sexual abuse cases. The center's professionally trained and compassionate staff performs child-sensitive interviews when there are allegations of sexual or severe physical abuse.
Children's recorded statements have been used in the successful prosecution of thousands of predators. Local police called the center "a Godsend" when it was formed more than 20 years ago.
The cost for MEN WHO COOK is $40 per person; $75 per couple. The price is $10 for children between 6 and 12; kids 5 and under can attend for free. And of course, there's no need to dress up for this casual, fun and affordable event.
Tickets for MEN WHO COOK are available online at menwhocook.info or they can be purchased at the door.
For additional information, call the Will County Children's Advocacy Center at (815) 774-4565. Or visit on the Web at menwhocook.info or on Facebook at facebook.com/willcountycac.