J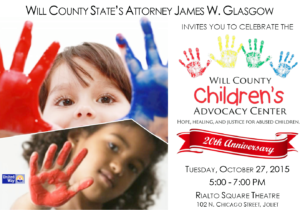 OLIET – Will County State's Attorney James Glasgow invites the public to celebrate the 20th Anniversary of the founding of the Will County Children's Advocacy Center.
The anniversary celebration will be from 5-7 p.m. Tuesday Oct. 27 at the Rialto Square Theatre, 102 N. Chicago St. in downtown Joliet. The event is free and will include hors d'oeuvres, dessert and a cash bar. RSVPs to (815) 774-4565 are appreciated.
The Children's Advocacy Center, which has been providing hope, healing and justice to abused children since 1995, also will join State's Attorney Glasgow in honoring three individuals who were instrumental in establishing the center and/or enabling it to continue its important work.
Honorees are: Sister Coletta Hennessy, O.S.F., of Presence Saint Joseph Medical Center, Paul Pawlak president and chief executive officer of Silver Cross Hospital and Dr. Sangita Rangala of the Care Center at Edward Hospital.
Sister Hennessy was the director of the Saint Joseph Medical Center's Social Accountability and Community Grant Program, which matched an Illinois Department of Children and Family Services grant to open the Children's Advocacy Center in 1995. President and Chief Executive Officer Pawlak donated an office suite on the Silver Cross Hospital campus for the newly established center in 1995. And Dr. Rangala began providing medical exams for children at Edward Hospital's specialized Care Center in 2002 and continues to provide those services today.
In addition, the Children's Advocacy Center and the State's Attorney will honor the Illinois Department of Children and Family Services for its role in funding the creation of the center as well as its cooperation and partnership over the past two decades.
During the event, State's Attorney Glasgow also will formally introduce Lisa Morel Las, who was recently named the Executive Director of the Will County Children's Advocacy Center. And the center will unveil its newly redesigned logo by JV Murphy & Associates.
The State's Attorney established the Children's Advocacy Center as a 501-(c)-3 charitable organization in 1995 to vastly improve investigations into cases involving the sexual abuse of children. Today, when children make outcries of sexual abuse, they are brought to the center, where trained and compassionate forensic interviewers obtain an accurate statement in a neutral, non-suggestive and child-friendly environment.
Interviews recorded at the Children's Advocacy Center have been used in the successful prosecution of thousands of child predators over the last two decades. In addition, the center's experienced staff provides children and families with counseling, medical exams, legal advocacy, community resource referrals and other social services to enable the healing process to begin.
Within a year of opening, the center was granted full membership status in the National Network of Children's Advocacy Centers, now known as the National Children's Alliance, and earned full accreditation by 2004.
Recognizing a greater need, Glasgow offered the center's services to both Kendall and Grundy Counties until both counties were able to establish their own centers (Kendall in 2007; Grundy in 2010) to serve abused children.
In 2012, the Paws-4-Kids pet therapy program introduced Jackson, a yellow Labrador retriever licensed through Therapy Dog International, to children who visit the center. Jackson offers furry friendship and canine comfort to children who have suffered the trauma of sexual and physical abuse.
"The Will County Children's Advocacy Center was a game changer that improved police investigations into sexual abuse cases involving children," Glasgow said. "The people and institutions we will honor during our 20th anniversary celebration were instrumental in the formation of a center that has delivered justice and helped to heal thousands of abused children. This is an opportunity to look back on the important work the center has performed on behalf of these vulnerable children. It is also an opportunity to look ahead as we plan for the future."
The anniversary celebration sponsors are: ExxonMobil; D'Arcy Automobiles, Joliet; and EZ Auto Sales.
For more information on the 20th anniversary celebration or to RSVP, call the Will County Children's Advocacy Center at (815) 774-4565.