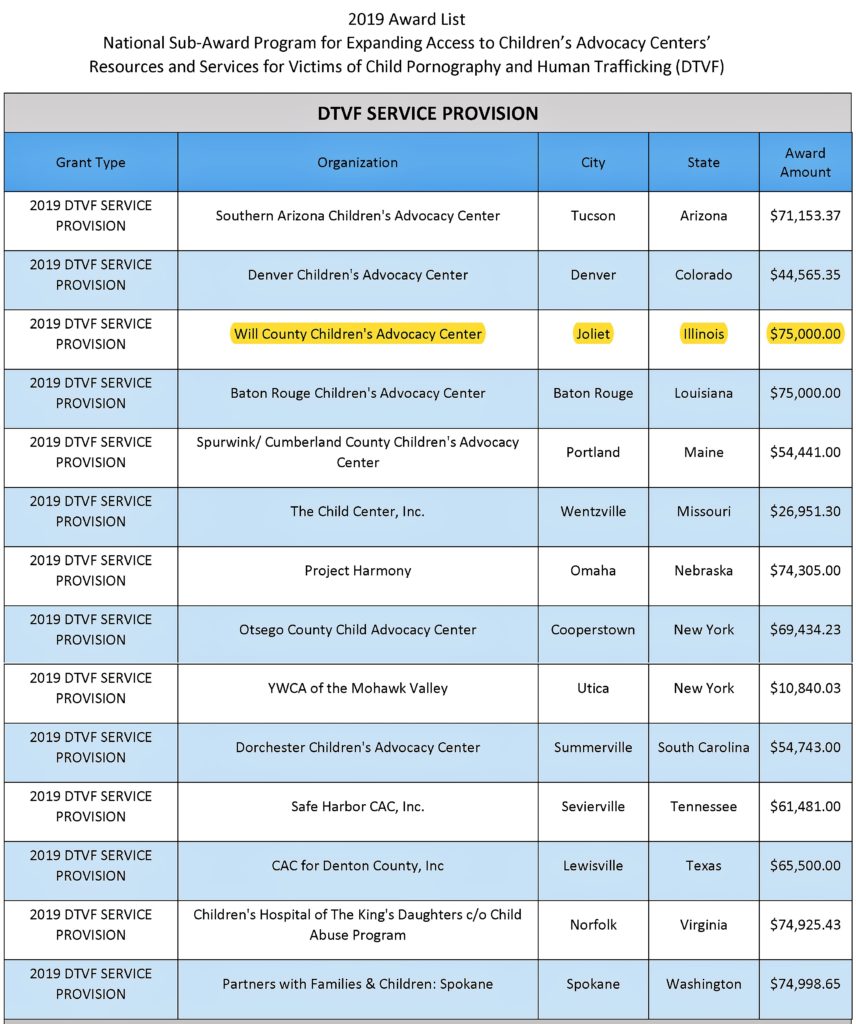 JOLIET – Will County State's Attorney James Glasgow has announced that the Will County Children's Advocacy Center was recently awarded a $75,000 federal grant to expand resources for the victims of child pornography and child sex trafficking. This is the third time the CAC has received this important federal grant from the National Children's Alliance.
The Will County Children's Advocacy Center was one of only 14 CACs across the nation to receive one of these grants for services, and the only in Illinois to receive the grant for services.
The grant will allow the CAC to build upon the Child Sexual Exploitation Coalition it established with previous grant money to develop a countywide response to child sexual exploitation, help expand law enforcement's accessibility to the Children's Advocacy Center and its services, and develop a public service campaign to raise awareness about child sexual exploitation. The grant also funds a specially trained child sexual exploitation and advocacy coordinator to handle these types of cases.
"The Will County Children's Advocacy Center is continually expanding the services it provides to the most vulnerable of populations – children who have been sexually abused and exploited," Glasgow said. "As a nonprofit organization, we rely upon grants like this to help us continue evolving with creative programs and offerings to meet the needs of our communities."
Just last month, the CAC opened an office in Steger to provide more convenient access to counseling services for people who reside in eastern Will County.
State's Attorney Glasgow established the Will County Children's Advocacy Center as a 501-(c)-3 charitable organization in 1995 to vastly improve investigations into cases involving the sexual abuse of children.
Today, when children make outcries of sexual abuse, they are brought to the center, where trained and compassionate forensic interviewers obtain accurate statements in a neutral, non-suggestive and child-friendly environment. Interviews recorded at the Children's Advocacy Center have been used in the successful prosecution of thousands of child predators over the last two decades.