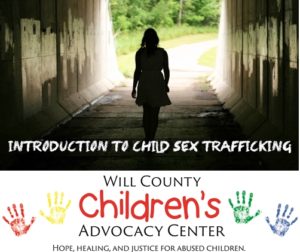 JOLIET – Will County State's Attorney James Glasgow will deliver the welcoming comments to a one-day training session that will teach professionals who interact with children to recognize signs they might have been victims of child sex trafficking.
The free training session, hosted by the Will County Children's Advocacy Center, is scheduled from 9 a.m. to 4 p.m., Dec. 5 at the Renaissance Center Ballroom, 214 N. Ottawa St., in downtown Joliet.
Nationally recognized crimes against children investigation expert, Lt. Chad Gremillion of the Louisiana State Police, will discuss interaction between child protective services, law enforcement, prosecution, and medical MDT members, which is critical for a successful system response on behalf of victims and the successful prosecution of offenders.
Upon completion of this training, attendees will:
Have a working knowledge of child sex trafficking;
Understand the similarities and differences between the traditional child abuse victim and the child sex trafficking victim;
Discern the role of technology in child sex trafficking cases, how it is used to recruit, market, control, and exploit victims, as well as how it can be used to build cases against traffickers.
This training is funded by a federal grant in collaboration with the National Children's Alliance, the Office of Juvenile Justice and Delinquency Prevention, and the Will County Children's Advocacy Center. The session is exclusively for Will County agencies that serve children. Police officers, prosecutors, social workers, victim service providers, DCFS workers, and hospital/medical providers all would benefit from the training.There is no cost for participants. However, pre-registration is required by Monday, November 27. Seats are limited; registration is encouraged as soon as possible. To register, go to: www.willcountycac.org.
The Will County Children's Advocacy Center has been providing hope, healing, and justice to the victims of child sexual abuse for 22 years. State's Attorney Glasgow established the Children's Advocacy Center in 1995 to improve the way allegations of child sexual abuse are investigated.
When children make an outcry of sexual abuse, they are brought to the center, where trained and compassionate forensic interviewers obtain accurate statements in a neutral, non-suggestive and child-friendly environment. Interviews recorded at the center have been used to successfully prosecute thousands of child predators. In addition, the center's experienced staff provides children and families with advocacy, counseling and social services that enable the healing process to begin.
For information about the Will County Children's Advocacy Center, call (815) 774-4565 or visit on the Web at www.willcountycac.org.
Date:           Dec. 5
Time:           9 a.m. – 4 p.m. One hour lunch. Boxed lunches available for purchase.
Location:      Renaissance Center, 214 N Ottawa St., Joliet, IL 60432
Cost:            NO FEE to attend.
Register By: Nov. 27, 2017 at www.willcountycac.org.