In honor of late SAO investigator, Jim Stewart, a dedicated blood donor.
LOCATION: Will County Children's Advocacy Center, 304 N. Scott Street in downtown Joliet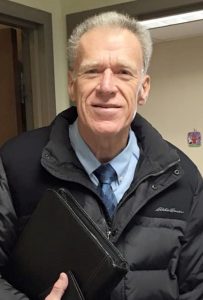 JOLIET – Will County State's Attorney James Glasgow announces that the first Taylor Babec Community Blood Drive of 2018 hosted by his office will be in honor of the late Jim Stewart, a dedicated Heartland Blood Centers donor who led his Investigations Division for more than seven years.The Will County Children's Advocacy Center is partnering with State's Attorney Glasgow to host the drive.
The Taylor Babec Community Blood Drive will be held from 7:30 a.m. until 2 p.m. on Tuesday, January 16 at a new location in front of the Will County Children's Advocacy Center, 304 N. Scott Street, directly across the street from the Will County Office Building. Parking for the drive will be in the Will County Office parking lot.
Stewart, who was also a retired Joliet Police Captain, died in early November after an extended illness. However, before he became sick, this beloved local law enforcement officer followed a strict blood-donation regimen, having scheduled as many as six appointments per year since 1987.
During that period, Stewart made 160 donations and gave an astonishing 20 gallons of blood. This means that his donations over the years provided life-saving transfusions to 480 patients who had been in collisions, suffered serious injuries, or undergone medical procedures.
"Jim Stewart was an amazing individual who certainly left his mark on our local law enforcement community," said State's Attorney Glasgow. "But one of his greatest legacies might be the countless people he impacted by quietly and regularly giving blood the minute he was eligible to make another donation. We may never know for certain how many people are alive today because of his dedication. I would encourage everyone in local law enforcement and in county government to roll up their sleeves at our January blood drive in Jim Stewart's honor."
Joliet mother Jennifer Babec knows first-hand the important role committed donors like Jim Stewart play in saving lives. Her daughter, Taylor, required 22 blood transfusions that restored her health and her spirits during her successful battle against lymphoma when she was a little girl. Taylor's cancer is in remission, but Jennifer continues to coordinate drives in her honor so there is an ample supply for others who need transfusions.
During the Jan. 16 blood drive:
Heartland representatives will present a plaque to Jim Stewart's widow, Amy, to honor his lifetime of donating blood.
All donors will be entered into a drawing for a $100 gift card that is being presented by State's Attorney Glasgow.
Everyone who donates will receive a free noodle bowl (a $13 value) from Noodles & Company.
And Will County employees and their spouses who donate will receive one health insurance Wellness Point to be applied to the year that began in April 2017. Employees must register in advance by visiting managewell.com and logging on to the worksite wellness activity: "Blood Drive – Taylor Babec S/A."
Appointments to donate can be made by calling Jennifer Babec at (815) 325-4282 or by visiting Heartland Blood Centers online at www.heartlandbc.org. Walk-in donors also are welcome on the day of the blood drive. Donations take roughly 30 minutes. Heartland is the sole provider of blood products for Silver Cross Hospital and Presence Saint Joseph Medical Center.