By DENISE M. BARAN–UNLAND - dunland@shawmedia.com
THE HERALD NEWS
---
Original story link: http://www.theherald-news.com/2014/07/01/therapy-dog-at-childrens-advocacy-center-brings-comfort-to-all/aounmg7/
---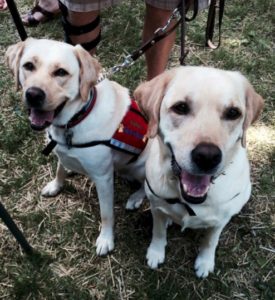 JOLIET – In many ways Jackson, the 5-year-old yellow Labrador Retriever belonging to Cheri and Kurt Johnson, is a bit of a Joliet-area celebrity.
For seven years, Jackson has been a familiar face at the Will County Advocacy Center in Joliet, where he greets children who have experienced physical or sexual abuse, plays with their families and cheers staff.
The Exchange Club of Joliet recently honored Jackson with its "Contributing Service Award," the first non-human to receive it. He competes in agility, obedience and nosework. Heck, he's even done a little modeling for Science Diet dog food.
But if Cheri puts a therapy dog vest on Malley – Jackson's adopted sister, also a yellow Labrador Retriever and therapy dog at the Will County Child Advocacy Center – and then walks out the door with her, Jackson behaves like any ordinary dog would.
"He gets very put out," Cheri said.
When Will County State's Attorney James Glasgow first heard of therapy dogs, he thought they'd be a good match for the advocacy center. Unfortunately, the budget for this nonprofit agency didn't allow it. So when Cheri, his executive assistant, offered Jackson, Glasgow was thrilled.
"He's got the perfect personality for the job," Glasgow said. "You can literally see the tension leaving the children's bodies. They're in a much better place when they go in for the interview."
It's not the just the children who benefit, he added. He recalled one particularly traumatized mother who found comfort in Jackson, too. She had just sat down with her child when Jackson walked over to them.
"She remarked how she felt the stress leaving her body when she started petting the dog," Glasgow said.
Still, if Cheri hadn't helped her sister research dog breeds at the International Kennel Club dog show at McCormick Place in Chicago, and Jackson hadn't been a squirrel chaser, the Will County Children's Advocacy Center might not have any its therapy dogs.
While at the show with her sister, Cheri saw a booth seeking volunteers to help train puppies for Leader Dogs for the Blind. Because Cheri had always raised and trained dogs, she saw this as the perfect opportunity to take something she enjoyed and help others.
Over the next eight years, Cheri and Kurt rained seven puppies. They became particularly attached to one yellow Labrador Retriever – Cooper – that the organization had selected to be part of its breeding stock. Because the Johnsons liked Cooper so much, they asked to train one of his offspring, Jackson.
Jackson was 7 weeks old when he came to live with Cheri and Kurt. Despite formal training through Leader Dogs for the Blind, Jackson could not overcome his fascination for squirrels and would be unable to safely guide a visually impaired individual.
Cheri was thrilled to keep Jackson, but because he was a working dog, he needed a new job. Agility classes at Lucky Dog Academy in Plainfield helped, but Cheri wanted a lofty purpose for Jackson, too.
The answer was becoming certified through Therapy Dogs International. Jackson and it were a perfect fit, as Cheri knew he would be.
"He passed right away," Cheri said.
After Cheri saw how well Jackson did with visits at what is now Presence Saint Joseph Medical Center in Joliet, she approached Glasgow with the idea of allowing Jackson to work with the advocacy center, too.
In 2012, Glasgow established the Paws-4-Kids program and brought Jackson on board. After Cheri and Kurt adopted Malley, they certified Malley, too.
Friends of Cheri's had raised Malley, now Jackson's sister, for Leader Dogs for the Blind. But Malley wound up with kennel stress, which disqualified her for the program, Cheri said, so she and Kurt adopted her. Malley only works at the advocacy center a couple times a month.
"Jackson is snuggly, cuddly and in tune with each person's emotions," Cheri said. "Malley is not as affectionate."
Glasgow said that because 350 to 450 young abuse victims are interviewed at the center each year, he would like to expand the Paws-4-Kids program with other certified therapy dogs.
GET INVOLVED
Interested individuals should call the office of Will County State's Attorney James Glasgow of the are interested in helping out with the Paws-4-Kids program at 815-727-8453 or the Will County Children's Advocacy Center at 815-774-4565. For more information on the center, visit willcountychildrensadvocacy.org
Copyright © 2017 The Herald-News. All rights reserved.