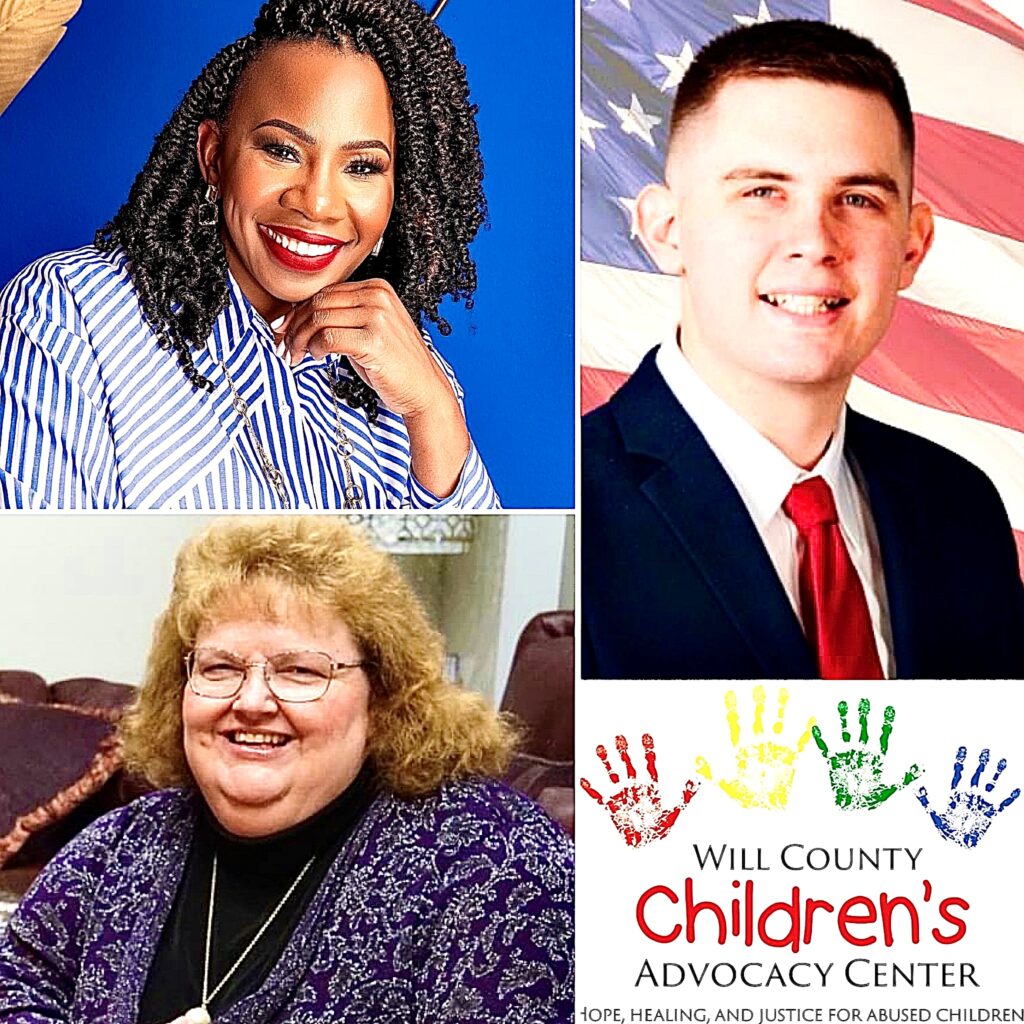 JOLIET – State's Attorney James Glasgow announced today that the Will County Children's Advocacy Center unanimously approved the appointment of Will County Board members Dr. Natalie Coleman and Mark Revis to its Board of Directors at its April meeting. Additionally, attorney Gwendolyn Sterk recently joined the CAC Board with unanimous approval.
"When I established the CAC in 1995, we opened in an office suite donated by Silver Cross Hospital on its campus, with the help of a financial contribution from then-Saint Joseph Medical Center, which matched a grant from the Illinois Department of Children and Family Services. Throughout the years we have continually expanded our services, ranging from the Paws 4 Kids therapy dog program I began in 2012 to opening a temporary satellite therapy office in eastern Will County.
"Our new board members are joining in our mission at a critical time as we will soon be relocating to a larger facility in Crest Hill. The new location will provide even further opportunities to help traumatized children. We will even have a fenced backyard to help the children find comfort with the help of our devoted therapy dogs. The CAC has always benefited from the strong support of our community and volunteers, and I look forward to working with Natalie, Mark, and Gwen as we continue the CAC's vital mission of serving children who have been abused and neglected."
In addition to serving on the County Board, Coleman is the CEO of After the Peanut and Founder of After the Peanut Foundation (501c3). Both organizations focus on creating equitable opportunities in STEAM Education. She also sits on the Silver Cross Hospital Board, as well as on the Boards of the Will County Forest Preserve and Will County Health Department.
"It truly takes a village to help children thrive," Coleman said. "Through compassion, empathy, patience, and understanding, the lives of children can be transformed. I look forward to working with the Children's Advocacy Center as they help children overcome the trauma of abuse and neglect. Every child deserves the opportunity to thrive."
Revis works as a Communications Analyst for the Illinois General Assembly - Office of the Minority Leader and is an active member of the Plainfield Lions Club as well as serving on the Will County Board.
"There is no better way to serve the community than supporting children whose lives have been upended by the trauma of severe abuse and neglect," Revis said. "The CAC makes a difference in the lives of abused children every day through the assistance it provides in navigating the court process, advocacy, counseling, and social services. I'm eager to help further the mission of the Children's Advocacy Center to bring hope, healing, and justice to abused children of Will County."
Attorney Gwendolyn Sterk is the owner of Sterk Family Law Group, P.C. in Orland Park and is passionate about connecting with community resources. In addition to being on the CAC Board of Directors, she also sits on the Board of Directors for Morningstar Mission, is a member of the Shorewood Kiwanis, and is actively involved in seven local Chambers of Commerce in service activities throughout the surrounding regions.
"I am passionate about the importance of the services the CAC provides for children who have been abused," Sterk said. "Children are our greatest resource and deserve our protection. I have personally observed the dedication and compassion of the CAC staff, and how they go above and beyond on behalf of each child, each and every day.
Annually, the Will County CAC serves more than 700 children who have endured physical and sexual abuse, sexual exploitation, child pornography, neglect, and exposure to violence.
Glasgow created the Will County CAC as a child-focused, coordinated response center to provide hope, healing and justice for children who have endured severe physical abuse, sexual abuse, sexual exploitation, neglect, and exposure to violence. When a child makes an outcry of sexual abuse, the child is brought to the CAC where highly trained and compassionate forensic interviewers obtain accurate and complete statements in a neutral, non-suggestive, and child-friendly environment. The CAC also provides trauma-focused individual and group counseling, medical exams, legal advocacy, and community resource referrals to facilitate the healing process.