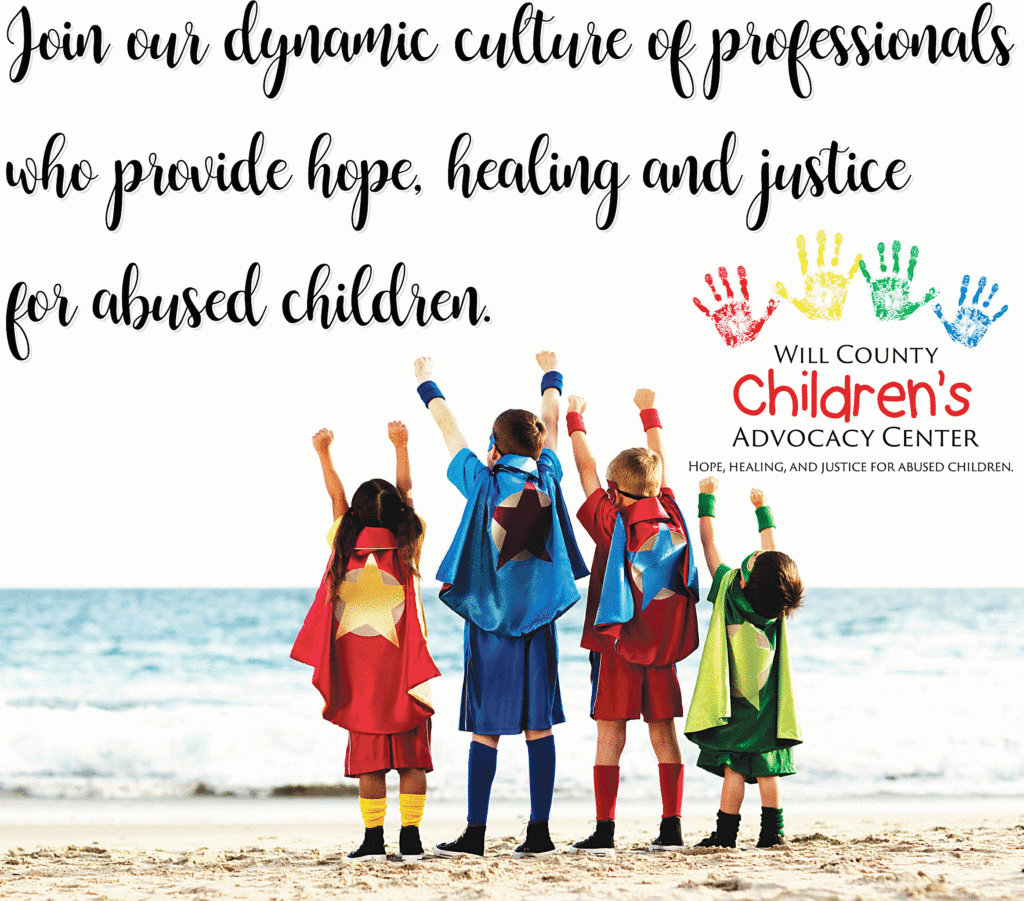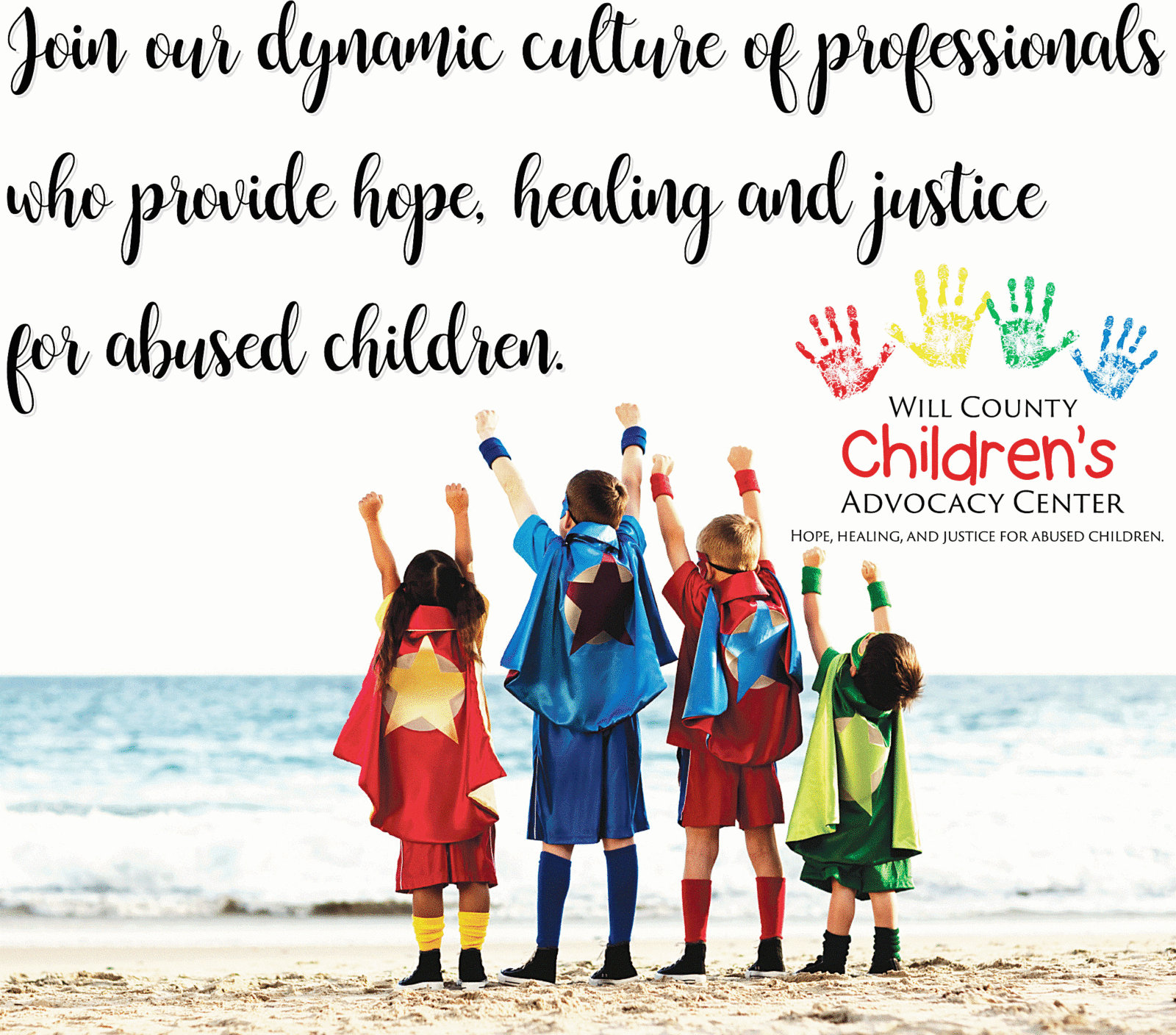 Thank you for your interest in becoming a part of the Will County Children's Advocacy Center's team.
Culturally diverse and bilingual (English-Spanish) individuals are strongly encouraged to apply.
Please email a resume and cover letter to lmlas@willcountyillinois.com and include the position title in the subject line.
NO PHONE CALLS; NO IN-PERSON VISITS.
All positions open until filled.
Child Sexual Exploitation Victim Advocate
JOB SUMMARY: The Child Sexual Exploitation Advocate provides confidential case management, support, and advocacy to youth who have experienced commercial sexual exploitation. Duties will include providing crisis intervention and ongoing case management services to CSEC youth, assisting them in getting basic needs met, advocating across a wide variety of situations, and supporting youth in actualizing their goals. Additional responsibilities include providing community education. Occasional evening or weekend work hours are required.
Case Management:
Provide all aspects of case management and support to designated caseload. Includes rapport building, facilitating regular meetings, safety planning, triaging for needs, and all other activities that assist youth in identifying and meeting their own goals.
Apply understanding of strengths-based, trauma informed, assertive engagement and dynamics of CSEC to youth interactions in order to support their safety and transition out of a life of exploitation.
Accompany and advocate for youth in a variety of settings including court, shelters, and multi-disciplinary team meetings.
Community Engagement:
Establish and maintain cooperative working relationships with partner agencies.
Attend community meetings as needed.
Design and present trainings for various audiences (e.g., law enforcement, medical professionals, businesses).
Support program/ agency-wide development through donation procurement, event planning, and communications.
Administrative Tasks:
Attend and participate in regularly scheduled CAC staff meetings, case reviews, and staff development trainings.
Maintain strict confidentiality and cross-cultural awareness in the performance of all duties;
Contribute to a work environment that is mutually supportive, respectful, and diverse.
Maintain all case files with attention to detail and timeliness.
Compile and complete all required forms, online database entries, and grant reports.
MINIMUM REQUIREMENTS:  The minimum educational requirement is Bachelor's degree in social services or related field from an accredited college/university, Master's degree preferred.
CRITICAL KNOWLEDGE AND SKILLS NEEDED:  Knowledge and passion related to commercially sexually exploited children. Strong understanding of the dynamics of sexual violence and how it affects both the individual survivor and community as a whole. Crisis intervention and supportive advocacy skills. Significant self-direction/self-management skills and the ability to be flexible in an unstructured environment. Comfort and/or experience with public speaking and conducting trainings. Demonstrated leadership and a commitment to diversity. Well-developed organizational, analytical and problem solving skills Intermediate skills in the Microsoft Word, Excel, and PowerPoint.
ADDITIONAL REQUIREMENTS: Must pass a thorough criminal background check. Must have own means of transportation, valid driver's license and proof of insurance, as travel throughout Will County is required.
STRONGLY PREFERRED: Candidates representing culturally diverse populations. Previous experience in law enforcement, social work, mental health, and/ or experience as a trainer/educator. Sound reasoning, judgment, and high professional standards a must. Skills in providing crisis intervention services to families. Training or experience in working with trauma victims, people with disabilities, and people with mental health disorders preferred. Knowledge of Will County courts, Will County area social service system, and victim's rights, preferred.  Outstanding written and verbal communication skills, and effective interpersonal and collaborative skills. Must be able to focus under pressure and with interruptions and meet strict deadlines. Must perform job duties independently, proactively, and with a variety of people in a team setting.
Position involves sensitive and confidential information about child abuse victims and partner agency personnel at all levels. Strict confidentiality must be maintained.
Must pass a thorough criminal background investigation. Must have own means of transportation, valid driver's license, and proof of insurance, as travel throughout Will County is required.
Must have the ability and flexibility to work outside of the normal working hours.